Cade Densmore
Thank you for taking time to visit my website.
My name is Cade Densmore.
I am a Verde Valley native and a Mingus graduate('90). I recieved my BS in Zoology from Northern Arizona University in 1997.
I then got married and moved to Lake Havasu City. I have been married now for 22 years and have two amazing kids ages 19 and 17.
After getting to LHC I was offered an 8th grade science teaching job, which I happily accepted and worked full time and went back to school to get my teaching certification. I taught Middle school for 4 years and coached the boys varsity soccer team at Lake Havasu High School for 3 of those years. At the end of the fourth year my wife and young daughter decided to move back "home" to the Verde Valley. I was offered a science/math teaching position at Mingus and also the Girls Varsity coaching job. I gladly accepted! I coached varsity level soccer for a total of 16 years. This is now my 19th year at Mingus, and have been lucky enough to teach along side many incredible teachers. Many of which were my inspiration in life and a big reason why I even considered a career in education.
During my tenure at Mingus I have taught Pre-Integrated Algeba, Integrated Algebra, Algebra I, Life Science, Lab Skills, Earth Science, Biology, Honors Biology, Chemistry, Honors Chemistry and AP Chemistry. Now that I have taken on the role of full time Chemistry teacher, I will be teaching Chemistry, Honors Chemistry and on years that we offer it AP Chemistry. So for school year 2019-2020, I will have Chemistry and Honors Chemistry.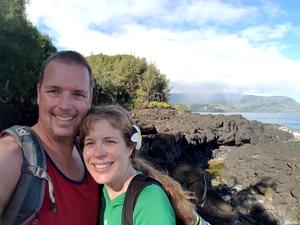 Living Aloha
On Kauai!